Join over 10,000 happy clients and experience permanent, painless hair removal at Mayfair Aesthetics.
Mayfair Aesthetics Laser Hair Removal
Winner of 11 awards for best laser hair removal clinic in London.
Say goodbye to endless shaving and waxing – enjoy medical-grade Soprano Ice Platinum and Soprano Ice Titanium laser hair removal at our London clinics
For information on the precautions being taken at Mayfair Aesthetics to protect our clients and team during the Coronavirus pandemic, please click here.
What is laser hair removal?
Laser Hair Removal is a popular medical procedure that removes unwanted body hair using a concentrated beam of light (a laser). Laser hair removal is suitable to remove hair on the face, arms, legs, bikini line and anywhere else that unwanted hair may grow. During a laser hair removal treatment, the laser emits light that is absorbed by the pigmentation (melanin) in the hair, this is converted into heat which damages the structures at the base of hair follicles that produce hair, preventing further hair growth.
Laser Hair Removal at Mayfair Aesthetics is a non-invasive procedure, providing our clients with a convenient, virtually painless method of permanently reducing and removing hair from almost anywhere on the body.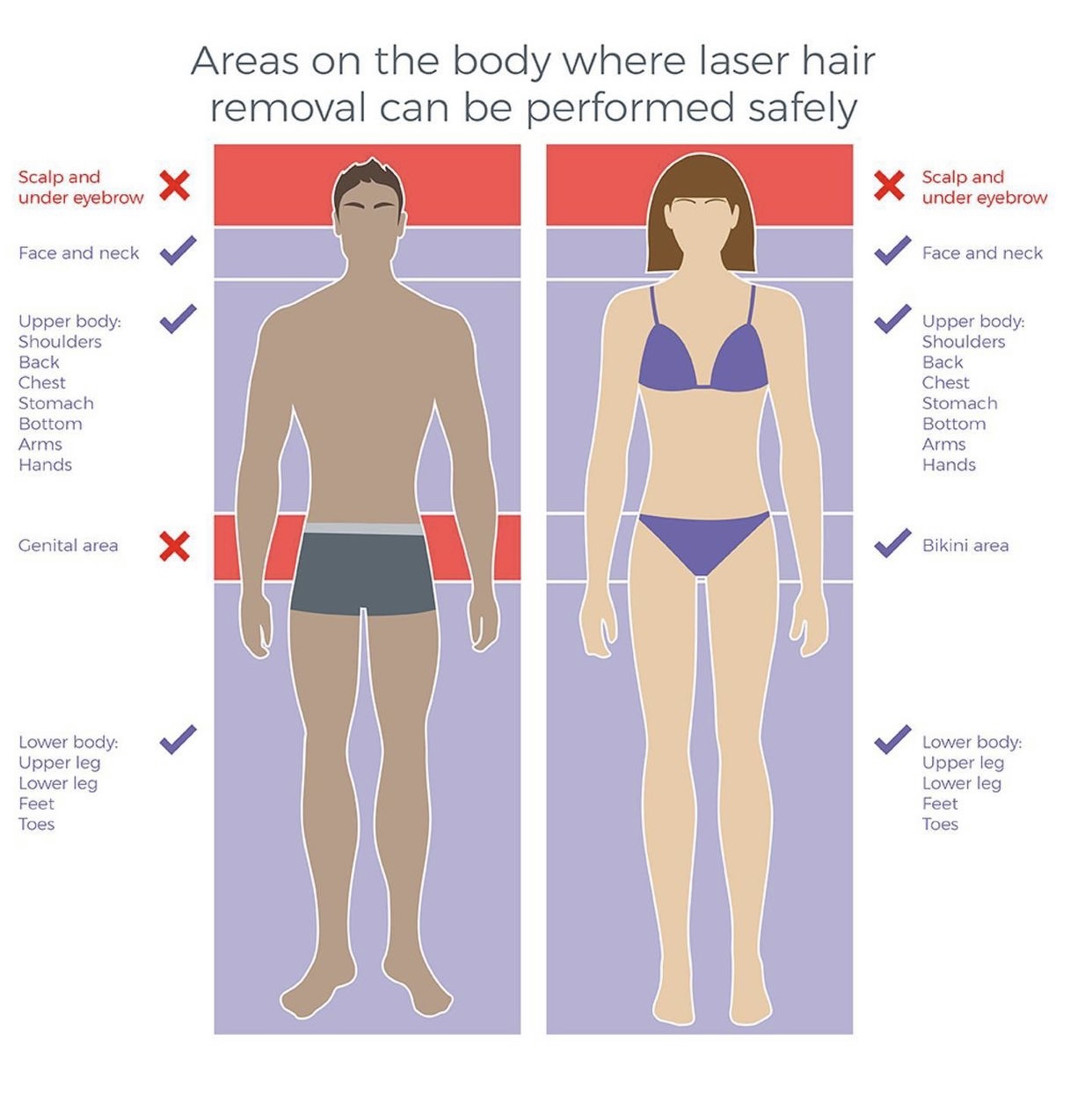 How permanent is laser hair removal?
The vast majority of patients will see around a 60-90% long term reduction in hair from a course of 6 treatments. A variety of results are possible with any laser treatment with variables such as skin tone, hair colour, natural resistance, genetics and hormones having a factor on the hair reduction achieved.
Who is laser hair removal for?
Laser Hair Removal treatments can be used by any person over the age of 18. We treat men, women and members of the trans community. Laser works best on dark blonde, brown and black hair.
Benefits of laser hair removal
There are countless benefits to Soprano Laser Hair Removal:
No more waxing, shaving, sugaring or tweezing
If like most of our clients, you have spent years shaving, waxing, tweezing or sugaring to remove unwanted hair, you will know the never-ending frustrations of a temporary solution. It's like a sticking plaster to a problem that never goes away. Laser Hair Removal can put an end to these frustrations.
Everybody likes to look and feel their best. When you no longer have to worry about stubble or a 5 O'clock shadow each day, it can make you feel more confident about the way you look.
Have you ever wondered how much time you have spent in the shower or in the salon removing unwanted hair? Research suggests a woman spends on average 72 days in her lifetime shaving her legs alone! A course of 6 Laser Hair removal treatments may solve that problem in a matter of hours.
According to Harpers Bazaar, the average woman spends £23,000 on waxing or £6500 shaving in their lifetime. When you factor in the personal time cost involved, it is a staggering amount. At Mayfair Aesthetics, we offer our clients some of the most competitive pricing in the industry so our clients can spend more money doing the things they love.
Soprano Laser Hair Removal treatments will leave your skin feeling softer, smoother and silkier to the touch.
Laser Hair Removal is often recommended by doctors to treat persistent ingrown hairs. You will also benefit from a reduction in skin irritation or razor burns caused by shaving.
How does laser hair removal work?
The first step is to book a free initial consultation and patch test to ensure you are suitable for Laser Hair Removal treatments. We explain the treatment in detail and answer any questions you may have. Prior to your visit you will complete a medical questionnaire.
The first treatment can take place a minimum of 48 hours after the patch test. Our highly trained Soprano Laser specialists recommend face treatments every 4 weeks and body treatments every 6 weeks initially. As the course progresses and hair growth slows down, later treatments will be more widely spaced. Laser Hair Removal treatments can last anywhere from 10 minutes to 4 hours, depending on the area(s) of the body being treated.
You can find out more detailed information about how Laser Hair Removal works here.
How much does laser hair removal cost?
The cost of laser hair removal depends which body parts you are treating and the number of treatments.
If you are comparing the cost of laser hair removal, you should always make sure you are comparing the same Laser Hair Removal treatments. At Mayfair Aesthetics, we only use the market leading Soprano Ice Platinum and Titanium lasers to ensure our clients get the most effective, safe and virtually pain free laser hair removal treatments. These systems employ all 3 laser wavelengths, penetrating to different depths within your skin for the most effective treatment results. Other clinics may be using a single wavelength laser which while quicker, is likely to be less effective. Traditional shots based lasers can also mean avoiding sun exposure for up to 6 weeks prior to treatment. With Soprano lasers, this is just a week.
You can view our laser hair removal prices page for the latest offers. 
Is laser hair removal safe?
Soprano Laser Hair Removal are class 4 medical lasers and are some of the safest and least painful systems on the market. We pre-screen all patients for any medication or medical condition that might make the treatment more risky. A patch test is carried out prior to all treatments.
Our laser specialists are fully trained and highly experienced in the operation of our lasers. We continually invest in staff training to ensure we maintain our multi-award winning service. Our first priority is your safety. 
What laser hair removal treatments do you offer?
At Mayfair Aesthetics, we only offer Soprano Laser Hair Removal treatments. From the beginning we wanted to prioritise the quality of our service above everything to ensure our clients got not only the most effective laser hair removal treatments, but also the most comfortable.
Soprano ICE lasers feature a sapphire cooling tip to rapidly cool the skin during treatment, ensuring client comfort and safety while targeting heat to the structures that actually create hair. This type of cooling is by far the most efficient method of protecting the skin compared to the cryogen or cooled air systems used on other types of lasers.
We use 2 types of Soprano lasers – to find out more visit:
Why choose Soprano Ice Platinum or Titanium?
The safest and best laser systems to use in the Summer or pre/post holiday, suitable for tanned skin and safe to treat 1 week after sun exposure (you must wait 6 weeks with traditional 'shots' based systems)
Multi-award winning
Virtually painless
Permanent hair removal
FDA approved and clinically proven results
The first laser hair removal system to employ Alex, Diode and Yag wavelengths simultaneously
Safe and effective for all skin types
Trusted globally
Laser hair removal – before & after
Frequently asked questions
When considering laser hair removal, it is important to make sure you have all the information available so you can make the right choice. If you can't find the answer to the question you are looking for please get in touch and one of our expert team will be happy to assist.