The Soprano ICE Platinum System
The revolutionary Soprano ICE laser hair removal system is available at all Mayfair Aesthetic clinics.
Mayfair Aesthetics has chosen to work exclusively with the Soprano ICE Platinum & Titanium systems. The first and best laser hair removal systems featuring trio clustered diode technology, combining three laser wavelengths into a single applicator simultaneously treating different tissue depths and anatomical structures within the hair follicles.
By combining the absorption and penetration levels of three different wavelengths, along with the treatment coverage, comfort and virtually pain-free treatment of the diode laser, Soprano ICE Platinum achieves the safest and most comprehensive hair removal treatment available today. This laser can even treat tanned skin making it one of the most convenient to use, especially in the Summer months.
When choosing a laser hair removal provider, there are many things to consider. Is the laser using all 3 laser wavelengths? Does the laser employ single, high intensity shots that may involve a 6 week wait before you can go in the Sun? How painful is the laser? Are the practitioners fully trained and experienced? Is this laser system safe?
What is Soprano ICE Platinum?
Soprano ICE Platinum is the revolutionary laser hair removal system from ALMA lasers.
The Platinum edition features trio clustered diode technology that combines 3 laser wavelengths into a single handpiece to target different tissue depths and anatomical structures within the hair follicle. This will normally be more effective than a single wavelenth laser.
Soprano ICE Platinum delivers a virtually pain-free experience for all skin types, including tanned skin.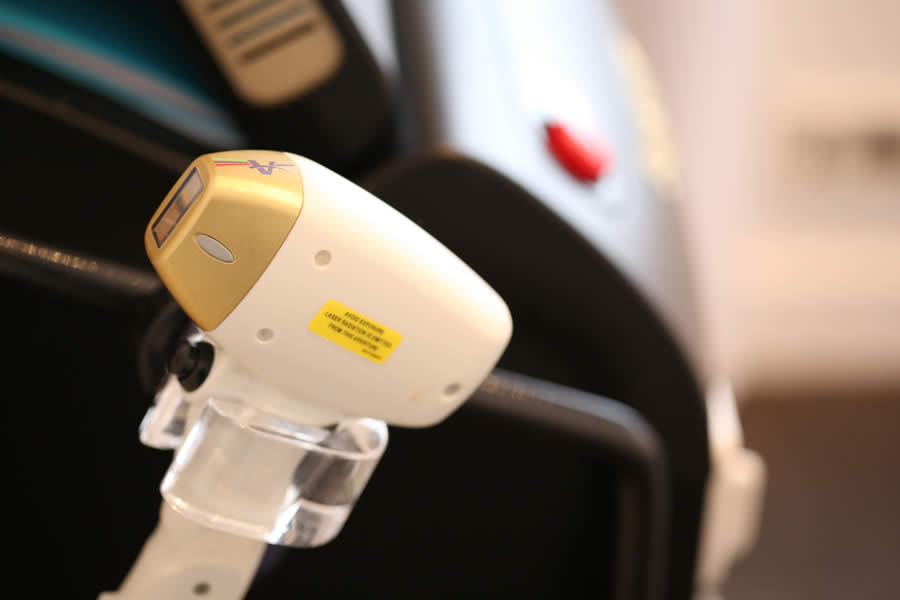 How does Soprano ICE platinum work?
Soprano ICE Platinum uses ground-breaking trio clustered diode technology developed by ALMA lasers to target different structures within the hair follicle.
The sweeping In-motionTM delivery technique keeps the laser in constant motion ensuring each patient receives full coverage throughout each session
Soprano's unique applicators overcome many of the challenges faced by other traditional hair removal systems regarding skin types, hair types and hair densities by emitting 10 lower energy pulses per second per second rather than single high intensity pulses.
Alma's cooling technology cools the skin surface – preventing discomfort and side effects and allowing for virtually painless yet highly effective hair removal.
SHR™ is Alma Laser's proprietary hair removal method used by laser professionals clinics all over the world. It is one of the only hair removal system, clinically proven to deliver safe & virtually painless hair removal for all skin types – including dark and tanned skin.
SHR works by gradually heating the dermis to a temperature that effectively damages the hair follicles and prevents re-growth, while avoiding injury to the surrounding tissue.
The Soprano ICE Platinum incorporates Alma's SHR method, ensuring patients experience safe and comfortable hair removal and do not expose hair follicles to single high energy pulses which may cause trauma to the skin
What does Soprano ICE Platinum feel like?
Soprano ICE Platinum patients normally report a gentle warming sensation. Sometimes sensitive patients may experience a mild pins and needles sensation.
Key benefits of Soprano ICE Platinum are virtually painless, permanent laser hair removal. The vast majority of clients experience permanent reduction of hair growth after 6-8 sessions. A good responder should see a 60-90% reduction in hair growth. At the beginning of your laser hair removal course, we provide an in depth consultation covering all aspects of the treatment, including the results you can expect. You will have the opportunity to ask any questions you may have and experience how the treatment will actually feel during your initial patch test
Suitable for all skin types
Virtually pain free
Grade IV Medical laser technology
Permanent reduction in hair growth
Virtually pain free
Before Platinum Laser Treatment
Apart from shaving, avoid any other hair removal method such as waxing, threading or hair removal creams for 6 weeks prior to your Soprano Platinum ICE hair removal treatment (and throughout your course).
You should also avoid sunbeds or any kind of fake tan for 2 weeks and normal sun exposure for 1 week prior to treatment.
Around 8 hours before your visit, you should shave areas to be treated or patch tested. Areas should be smooth and stubble free for your treatment. Any medications that may cause photosensitivity (an increased sensitivity to light and heat) may prevent us from treating you. We send you a medical form to complete prior to visiting which allows us to pre-screen all our visitors and potentially save you a wasted journey if laser is not going to be suitable.
If you have any questions, please speak to one of our dedicated team or email info@mayfair-aesthetics.co.uk.
After Soprano Platinum Laser Treatment
After your Soprano Platinum treatment, you may experience slight sensitivity and mild redness.
This is perfectly normal and we recommend Aloe Vera gel as an excellent way to calm and soothe the skin. You can use Aloe Vera gel straight from the fridge. For any areas treated that are exposed to sunlight, you should protect your skin with factor 30-50 SPF sunscreen. We stock Aloe Pura SPF 50 Aloe Vera sunscreen that will protect you while cooling and soothing.
After your laser treatment, please avoid more intense heat such as hot baths, showers, saunas, and steam rooms. You should also avoid vigorous exercise and swimming as the chemicals in the water may cause irritation.
Our team is always on hand to provide you with ongoing advice and support – even after your final session is complete.
The Soprano ICE Platinum is suitable for any skin type (Fitzpatrick 1-6) including skin that is tanned (wait 1 week after sun exposure). Our system uses 3 different laser light wavelengths to target the widest possible range of hair colours and textures.
We can only treat clients aged 18 or over.
Who can't be treated with Soprano ICE Platinum?
Unfortunately, there are some cases where we cannot administer laser hair removal treatments. As Soprano lasers target the melanin pigment within the hair follicle, ginger, white or grey hair will not be affected by the laser. The more melanin in the hair, the more effective the laser treatment tends to be.
Very fine hair (vellus hair) may also not be the best candidate for laser hair removal because hair lacking sufficient density may not contain enough melanin for an effective result.
Other scenarios include:
Patients who are on regular daily antibiotics
Patients taking Accutane or similar anti-acne medications or who have been taking Accutane during the past 6 months
Patients who are pregnant
Anyone who is sunburned or has had significant sun exposure less than 1 week prior to treatment
Anybody with peeling skin or has a fake tan
Clients with light sensitive epilepsy, vitiligo, type 1 diabetes, history of keloid scarring or lupus.
Clients currently taking any medication or herbal supplement that may cause photo-sensitivity. It is necessary to seek a doctor's note in this case before commencing treatment
Anyone with a history of cold sores to the treatment area should start taking an anti-viral medication for 3 days before and after treatment
Is Soprano Platinum safe?
Soprano Ice Platinum system is one of the safest laser hair removal systems in the world. Rather than delivering all the laser energy in high intensity, painful shots such as with traditional laser systems, the applicator is passed back and forth over the area to be treated so that energy and warmth builds up gradually over a few seconds.
At Mayfair Aesthetics there is an extremely low risk of complications arising as our experienced practitioners operate the laser for a given skin type following the correct treatment protocols.
How many treatments will I need?
Laser hair removal will only treat hair in the Anagen phase of growth. Approximately 10-15% of the hair in any particular area will be at this phase at any given time.
Each laser hair removal treatment spaced 4-8 weeks apart will treat different hairs at this stage of their life cycle. This means you should see a roughly 10-15% reduction in hair per treatment.
Most clients choose a course of 6 to 8 treatments per area. Sometimes more treatments are required for more resistant areas such as the face or private area.
Shaving Before my Platinum Laser Treatment
Before your Platinum ICE laser treatment, you will need to shave any area to be treated with laser to ensure the session is safe and effective. The optimal time to shave is around 8 hours before your appointment time. Doing so gives your your skin time to calm down and allows any redness to fade while still leaving a smooth surface for the laser to treat.
If you do not shave before your laser treatment, the laser will mainly heat up the hair outside the skin rather than the root structures as required. As this presents an increased risk of side effects and will result in the treatment being ineffective or less effective, any client arriving for their laser treatment unshaven will not be able to receive a treatment.
Mayfair Aesthetics offers shaving for the back and shoulder areas which is usually booked in advance of a laser hair removal treatment. There is small charge of £10 per visit. Speak to our reception team to arrange a shaving appointment around 8 hours prior to your laser treatment.
Why Choose Mayfair Aesthetics?
At Mayfair Aesthetics, we provide the very latest, most effective and painless laser hair removal system available in the UK and guarantee a first class service using the Soprano ICE technology.
You will always be treated by one of our highly trained, experienced laser specialists throughout your course of treatments with careful monitoring of your treatment progression on every visit.
You have the option to request the same therapist on each visit, but we invest heavily in our staff training to ensure that all laser treatments will be carried out to the same high standard.
As a boutique laser clinic, you will always receive exceptional service from our highly trained team of experienced laser and skin specialists.
Carrying out the treatment correctly will have as much influence over your treatment outcome as the Laser used. The individual care given by our expert team and ongoing training is an essential part in delivering outstanding treatment results.
At Mayfair Aesthetics, we offer highly effective, affordable laser hair removal using Soprano ICE.
We are delighted to have received numerous awards for our work:
Winner of Laser Hair Removal Clinic of the Year in the 2020/2021 London & South East Prestige Awards
Winner of Best Laser Hair Removal – London in the 2020 & 2021 & 2022 Global Health & Pharma Excellence Awards
Winner of Best Laser Hair Removal Specialists – London in the 2020 UK Enterprise Awards
Winner of Best Unisex Laser Hair Removal – London in the 2020 Health Beauty & Wellness Awards
Winner of Aesthetics Specialist of the Year (Laser Hair Removal) in the 2018 & 2019 London Hair & Beauty Awards
Winner of Hair Removal Service of the Year in the 2019/2020 London Prestige Awards
Winner of Best Laser Hair Removal Specialist in the 2019 Greater London Enterprise Awards
Winner of Best Cosmetic Skin Clinic – Excellence in Laser Hair Removal in the 2018 Greater London Enterprise Awards
Winner of Laser Hair Removal Clinic of the Year in the 2020/2021 London & South East Prestige Awards