Mayfair Aesthetics Laser Hair Removal London
Mayfair Aesthetics Laser & Skin Clinics, with locations in Islington, Pimlico, Hammersmith and Moorgate are forerunners in the UK in the Laser Hair Removal field. Winners of 7 awards for best laser hair removal provider in London, our clinics specialise in the revolutionary Soprano Ice Platinum and the Soprano Ice Titanium laser hair removal systems. These multi award-winning and groundbreaking treatments simultaneously employ all 3 laser light wavelengths, making them the most comprehensive and virtually pain-free method of removing unwanted hair on the market today.
Our prices are very competitive, with 0% finance, flexible payment options
and generous discounts on treatment packages.
Book Your Free Patch Test
Book a FREE Soprano Ice Platinum Laser Hair Removal consultation and patch test online for your conveniance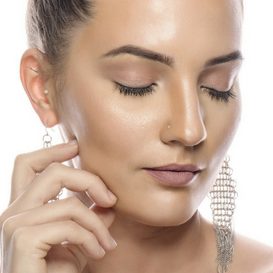 Our team of laser specialists perform laser hair removal treatments for over 90% of their available appointment time – we really are laser hair removal experts! Complimented by our team of 3 Doctors providing the highest quality anti-ageing aesthetic treatments such as muscle relaxing micro-injections, dermal fillers, PRP therapy and mesotherapy.
Our Fire & Ice Skin Resurfacing Facial has been featured in the London Evening Standard as one of the best treatments in town to get you 'red carpet ready.
Book online, call or visit us today to arrange a complimentary consultation.
What Our Clients Have to Say
***** A great clinic, amazing staff, especially Ewelina. She is very professional and attentive.

***** Very professional team, easy to book an appointment, clean place and close to the tube station. The laser is really working, only 2 sessions and I can see a difference. I recommend this place.

Marie-Emmanuelle Via Google Places

***** Excellent experience at Mayfair Aesthetics Pimlico from booking to treatment, it was very professional. Ioanna was brilliant, she thoroughly explained everything. The treatment itself was painless and ended up being a rather relaxing morning chatting to Ioanna. Highly recommend.

***** I'm really impressed with this salon. I've had a ton of (pretty disastrous) laser over the years and this place is by far the cleanest and friendliest salon I've ever been. I also think the laser is finally working! Easy to book and they are always very good with communicating times and appointment reminders etc. Thanks guys!

***** I rarely write reviews and if I do, it's usually to moan. Not this time! I started laser hair removal with Mayfair Aesthetics a few months ago and I'm delighted with both the results and the service. The price initially drew me in and I was unsure as to how things would pan out. I've had two sessions thus far and I'm already seeing a significant difference. Secondly, the treatment specialists – particularly Kate – are extremely friendly, helpful and professional. I would highly recommend this company to anyone who's thinking about de-hairing permanently; I can't wait to be hair-free in a few months!

***** I will definitely recommend, 10 out of 10 service 🙂 I arrived feeling quite nervous, as you could imagine. Only to be greeted by a warm friendly array of staff (two thumbs up for Kate,) I was put at ease and left very happy with the end results.

***** Happy from having my laser hair removal at the clinic. The staff is very welcome ,listen patiently the customer ,plus the treatment is done very professionally. Recommend!

***** I went to Mayfair Aesthetics for a course of laser treatments. Very friendly and professional staff, great facilities and always on time. Would definitely recommend!

***** If you are nervous about finding a reputable clinic you can trust for laser hair removal then look no further. Outstanding customer service, the staff are very patient and the emphasis is on giving a good customer experience and you are not rushed in and out the door as with many places. The premises are spotless and the staff take pride in their work. I was researching for a while before I decided to go with Mayfair aesthetics. I am confident I am in safe hands and delighted to give Mayfair Aesthetics a big thumbs up.

***** Super friendly staff, clean and the relaxing environment and a laser that works well for black people without the horrible pain and high risk of burns! (a rare find these days), I'd recommend for sure.

Federica Via Google Places

***** Fantastic customer service. I booked 6 sessions for laser hair removal on my upper legs. I have had one treatment and I can already see a difference. Look out for special offers. Friendly, open staff who openly ask you to contact them if you have any complaints from the first point of contact. Highly recommended.

Catherine Via Google Places

***** I'm very pleased with the service and the results so far yesterday I have the last session of laser treatment with Ioana (a girl from Romania in Pimlico) she was really nice the machine is very good and it works for people who are suffering from having a loads of hair ! I recommend thank you so much best investment I have done so far!